If you're just getting familiar with KONG Pet Toys or happen to be a proud new dog owner; you may not realize the importance of KONG dog toy colors!
KONG toys are color coordinated to represents its rubber hardness and ability to withstand different levels of chewing.
Therefore, it is important that you don't choose a KONG toy solely on the color you like best. You should choose your KONG based on your dog's chewing temperament. Alternatively, you can review the chart at the bottom for recommendations on the proper KONG size and color according to the breed of dog(s) you have.
The three basic dog chewing temperaments are:
1.
Gentle Chewers
are dogs that usually prefer plush and fabric toys. They typically enjoy licking or sucking on their toys. They seldom destroy their toys.
2. Average Chewers enjoy all kinds of toys. These dogs are usually destructive with plush and fabric toys, but are rarely destructive with rubber toys.
3. Power Chewers often require more discretion in toy selections because they are determined, strong, and can make quick work of most toys. Durable, interactive toys and rubber toys are usually best for these dogs. Sizing up to a larger size can also be helpful when dealing with power chewers.
As always, regardless of chewing temperament, be sure to supervise your dog when using dog toys. Remember to replace any toy with rips, tears, or cuts.
Let's take a look at some of the KONG types and colors that are available and their recommended dog 'customers'.
The red KONG is for Adult Dogs and Average Chewers.
Known as the KONG Classic, the red KONGs are the most common and popular KONG available. It is made of a durable rubber with an enjoyable amount of give that most dogs love. This color is made to withstand moderate chewing and suited for most small breed dogs, medium breed dogs, and several large breed dogs.
If you are uncertain of which KONG to get and have a dog beyond 6 months of age, you can't go wrong with a KONG Classic. If you have an aggressive chewer or a dog with a history of destructive behavior, you should look into the black KONG Extreme.
Available sizes: X-Small, Small, Medium, Large, X-Large, XX-Large

For your most powerful chewers, try the black KONG (Extreme).
The strongest and most durable KONG available is the black KONG Extreme. It is most popular with tenacious chewers and large breed dogs such as Rottweilers, Great Danes, American Pit Bull Terriers, Dobermans, and Akitas.
While it is not indestructible, the proprietary black rubber compound is extremely durable and should be able to withstand the jaw pressure of most large and extra large breed dogs. If your dog is a destructive chewer, give the black KONG Extreme dog toy a try. You may be surprised at how tough and rugged this toy can be!
Available sizes: Small, Medium, Large, X-Large, XX-Large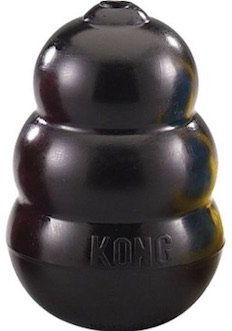 Baby blue and pink KONGs (Puppy) are loved by Young Dogs.
To help soothe those gums, look for a baby blue or pink KONG that is specially tailored for the teeth of young dogs and growing puppies. KONG Puppy uses a durable rubber that is softer than the other KONG types; but aids in helping soothe sore gums, decrease separation anxiety, and encourage proper chewing behavior.
Available sizes: X-Small, Small, Medium, Large

The purple KONG (Senior) is ideal for Older Dogs.
Specifically formulated for older dogs, the KONG Senior is made with a gentle but durable senior formula that is perfect for aging teeth and jaws. In fact, it's been known to help reestablish play and exercise in older dogs!
Available in three sizes: Small, Medium and Large

More Great Ways to Use Your KONG Dog Toys
Why KONGs are the Best Interactive Dog Toys
KONG Dog Toys Color Guide – Color is Important!
Get Stuffed! Over 50 Ways to Fill your Kong
KONG Stuffing Recipes
How to Clean & Sanitize KONG Dog Toys