Need more ideas to fill your dog's KONG toy with? Looking for a way to save money with low-cost ingredients that you probably already have? Interested in a way to keep your dog busy with his KONG for longer than 5 minutes? BARKTASTIC! Let BarkThink show you the best way to stuff your KONG toys to maximize your dog's chewing experience that will increase his mental stimulation and keep him busy longer. This KONG stuffing technique can be particularly effective in calming dogs with anxiety, tiring down hyperactive dogs, soothing fearful puppies, and crate training.
KONG Dog Toys
, and similar treat-dispensing toys, has always been a MUST-HAVE toy for my sanity and my dogs. These wonderful enrichment toys is readily available at most pet stores or online.
The premise is simple: stuff the toy with food and allow your dog to keep themselves occupied while he/she works at obtaining the food inside.
What about destructive chewers? Fortunately, KONGs are made out of long-lasting, durable rubber and is built to withstand a dog's biting. There are also several variations for puppies, older dogs, and extreme chewers.
Dog owners often fill their KONG with treats and kibble in hopes of keeping their canine companion occupied for the hours claimed on the product packaging. Unfortunately, in reality, this usually does not happen quite as advertised. Often, the dog will quickly empty out the kibble-filled toy and quickly become bored once they have achieved their goal of eating the treats. Food paste and peanut butter lasts a bit longer; but still, can be consumed within 5-15 minutes. However, when packed appropriately, these food-stuffed toys can last for an hour or more in keeping your dog occupied, mentally stimulated, and satisfied (and getting rewarded with delicious goodies, of course!).
In my years of trying to keep mischievous puppies occupied and away from things such as furniture, I discovered some effective and healthy ways to get the most out of the KONGs. Ready to learn the secret?
Here's my million dollar tip to get the most out of your KONG:
Use Layers & Freeze it.
Freezing Your Kong Dog Toy
Basically, you stuff the KONG Dog Toy in multiple layers of food, and then freeze it. By freezing the ingredients, it will last much longer and provide more stimulation for your canine companion. Sure, you can use the expensive fillers sold at the pet store…but have you looked at the ingredient list? It may be convenient; but not so healthy for long-term use. You can easily blend a healthier mix from a variety of leftover foods you already have in addition to their regular dog food or treats.
Freezing Kong toys can also save you time! By having more than one Kong toy, you can freeze several ahead of time until you actually need them. I've had friends who had at least 7 Kongs for their dogs—one for each day of the week. Often, their dog would instinctively run into their kennel whenever a Kong is pulled out of the freezer!
Keep in mind: The ingredients you use to stuff your dog's Kong will add extra calories, in addition to their regular food. Therefore, to avoid overfeeding, you should adjust their rations accordingly at regular meal times.
Here is an illustration using a popular 4-layer method for stuffing your KONG. Be creative and change up the ingredients as you (or your puppy) please!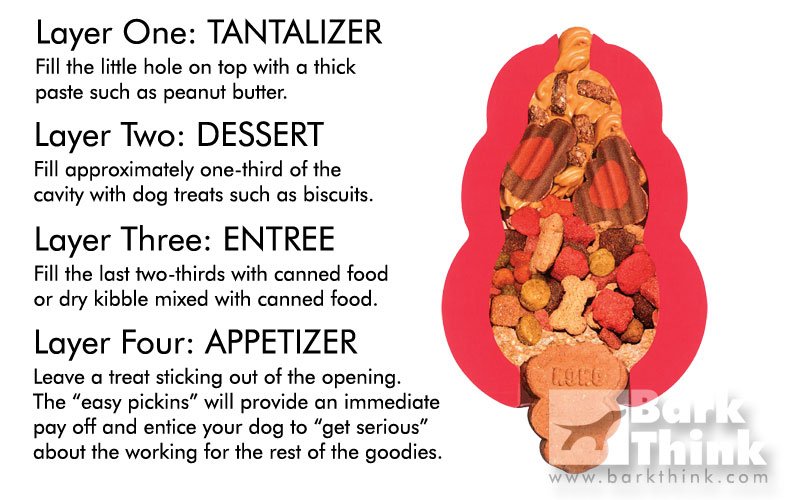 Food Items To Stuff inside a KONG
With that said, for you first-timers out there, here are some simple one-ingredient stuffers to get you started:
Peanut Butter — Smeared or Stuffed
Canned Pumpkin — Smeared
Canned Premium Dog Food — Smeared
Cottage Cheese — Stuffed
Ground meat, raw or cooked — Smeared or Stuffed
Greek Yogurt — Stuffed
Kibble — Capped with a thick paste (such as peanut butter) to keep it inside the Kong
Now, for the fun part! Feel free to practice with 2-layers or two ingredients and work your way up as you get comfortable. Practice makes perfect! Here are many other easy and healthy ingredients to try grouped by suggested layers (many are interchangeable):
LAYER ONE: TANTALIZER
Peanut Butter
Canned Pumpkin
Canned Premium Dog Food
Cottage Cheese
Cream Cheese
Yogurt (Greek or Plain)
Apple Sauce (May need to cap with peanut butter)
Liver Pate
Cheese Spread
Velvetta or Cheese Whiz
LAYER TWO: DESSERT
Dog Treats
Apricots
Banana
Blueberries
Carrots
Cheerios
Dried fruit (of any listed here)
Cheese Slices
Croutons
Green Beans
Liver, freeze-dried
Nectarines
Peaches
Peas
Peanuts or nuts (preferably unsalted)
Strawberries
Saltines or broken crackers or hard biscuits
LAYER THREE: ENTREE
Baby Food
Bran Cereal (Avoid raisins)
Bread
Chicken, cooked or shredded
Turkey, cooked or shredded
Eggs, cooked
Dog Kibble
Leftover meat scraps (remember to avoid poisonous spices)
Mac & cheese
Oats, cooked
Pasta, cooked (Ravioli, tortellini, etc.)
Potatoes, skinless
Rice, cooked
Salami
Tofu
Tuna
LAYER FOUR: APPETIZER
Apples
Banana
Slice of bread, folded with a tasteful spread inside
Beef Jerky
Broccoli
Cauliflower
Cold cut deli meat, rolled up
Hot Dog
Pizza Crusts
String Cheese
Vegetable Stick (Carrot, Celery, etc.)
EXTRA: FLAVORING
Agave Nectar
Chicken Soup
Honey
Oatmeal (uncooked, sprinkled)
Parmesan cheese
Soy or vanilla ice cream (watch for excess sugars)
Tomatoes (be careful with canned sauces)
Water cooked with bouillon
Mix It Up! Change is Good
Like dog toys, it is always a good idea to 'mix it up' in order to help prevent your dog from getting bored with the same thing.
With KONG Dog Toys, alternating between freezing and not freezing the fillings works well, as does changing up the ingredients stuffed inside the KONG.
For a change of pace, instead of using a KONG, you can try stuffing a hollowed out marrow bone (available from your local butcher). The key is to ensure that bone length is two to three times the length of your dog's tongue.
Alternatively, popular KONG alternatives in our home has been the
PetSafe Busy Buddy Squirrel Dude Dog Toy
and
PetSafe Busy Buddy Barnacle Dog Toy
.
2017 Update: Lately, in addition to the KONG, the Nylabone Dura Chew Marrow Alternatives have been a HOWLING hit with our dogs. Both, our small Rat Terrier (Spock) and Olde English Bulldogge (Otis) have been stealing each others bones and eating it for themselves. You can stuff it similar to the way you stuff a KONG; but it feels and looks like a hollow marrow bone. Otis, our most aggressive chewer, has enjoyed the ability to gnaw on it like he does traditional nylabones…a two for one winner!
VIDEO: Learn some unique ways to stuff a KONG, plus some tips on how to introduce the toy to your dog for the first time:
More Great Ways to Use Your KONG Dog Toys
Why KONGs are the Best Interactive Dog Toys
KONG Dog Toys Color Guide – Color is Important!
KONG Stuffing Recipes
How to Clean & Sanitize KONG Dog Toys