Depending on how your dogs play with it, the Starmark Everlasting TREAT Bento Ball can be an outstanding value or a vexing recurring cost due to the Starmark Everlasting TREAT refills being nearly essential for use. The quality of the toy itself is incredible and highly durable (and dishwasher-safe!). Food-motivated dogs will absolutely love all of the features of the Bento Ball, especially the refill that can provide a long-lasting chew similar to bones.
User Ratings (

9

Votes)

1.9
The Starmark Everlasting TREAT Bento Ball is a unique dog toy that not only serve as a treat dispenser, but it also provides mental engagement (helpful for anxiety and destructive boredom behaviors) and a fun way to keep your dog's teeth clean with gum massaging nubs.
The highlight feature of the Bento Ball is the ability to utilize Starmark's Everlasting Domed TREATS (or Everlasting TREATS with Dental Ridges) on the top side which are marketed as long-lasting dental chews with a hardness similar to bone. The bottom side is covered in massaging nubs and an "X" shaped hole that allows you to add small treats or kibble for additional interactive play. Marketed as a 'virtually indestructible material' and 'stronger than rubber', this latex-, vinyl-, and phthalates-free interactive dog toy should be great for powerful chewers!
The Starmark Everlasting TREAT Bento Ball is available in three sizes corresponding to their Everlasting TREATS refills:
| Size | Weight |
| --- | --- |
| Large | Dogs over 40 pounds |
| Medium | Dogs under 40 pounds |
| Small | Dogs under 15 pounds |
At time of writing, the Starmark Bento Ball toy in size Large retails for about $13 and the Everlasting TREAT refill goes for about $6 for a 2-pack ($3 / serving).
Our Review: Starmark Everlasting TREAT Bento Ball
The Starmark Everlasting TREAT Bento Ball is a nifty multi-functional dog toy that can satisfy your dog's chewing desires and provide mental stimulation, particularly when used in combination with treats/kibble and a Starmark Everlasting TREAT refill. As you may have seen on this site, we love interactive and treat-dispersing dog toys because they typically to provide both mental and physical 'work' that can often reduce destructive behaviors due to anxiety and boredom. To find a product that can do that in addition to being "indestructible" is a pet owner's delight! Let's take a look to see how it fared in our review.
We used a Large size Bento Ball and Everlasting Treat refill for Ocho, an American Bulldog weighing approximately 80lbs. This was actually one of the first Starmark products I've ever purchased and it's been since 2017—about 3 years at this time of writing. Despite being chewed and gnawed on over the years, it has shown minimal wear and is still in-tact without any missing pieces. I'm not quite sure what the material is, but it appears to be a flexible and durable thermoplastic that reminds me of high quality silicone polymer. In any case, it is dishwasher-safe and have been practically indestructible with no sign of needing replacing anytime soon. As a comparison, I've had to replace some KONGs dog toys around the 3-5 year mark because the rubber typically wear out or start cracking.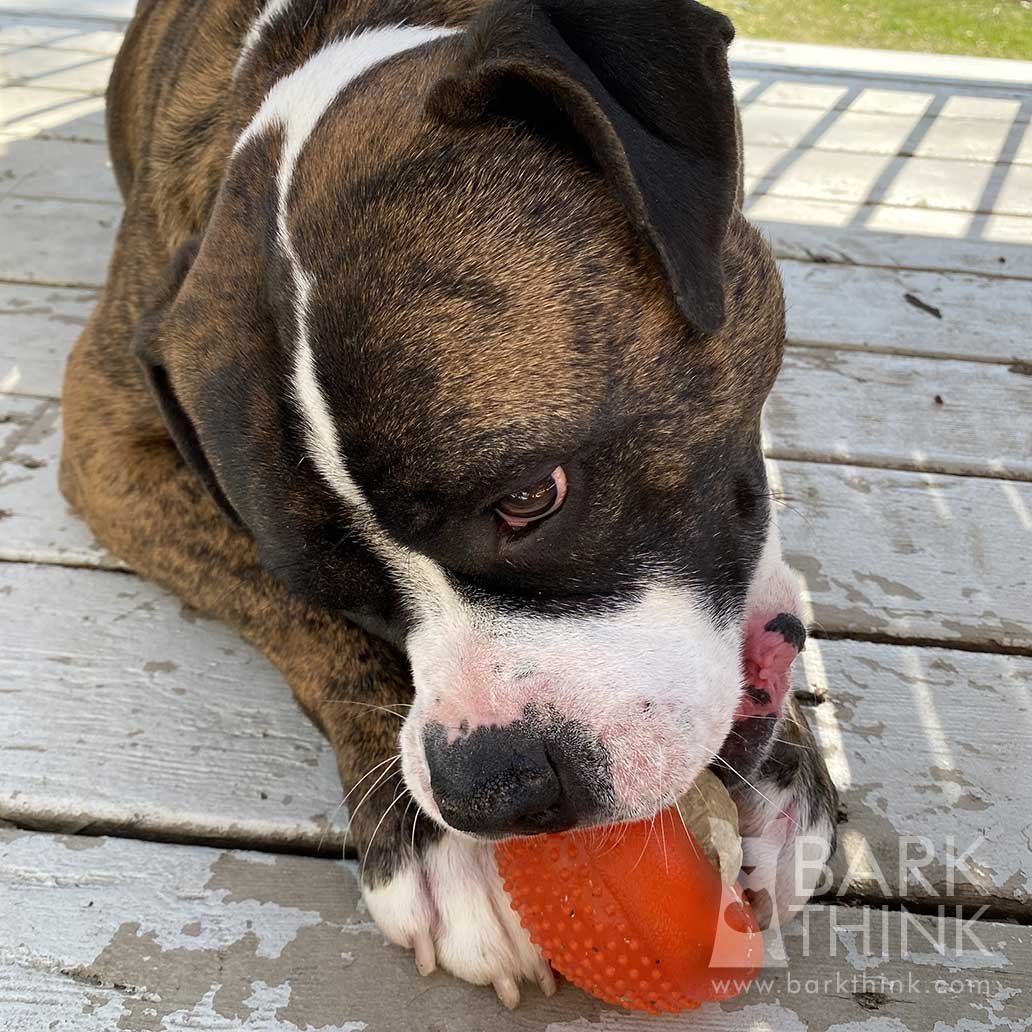 The premise of the Everlasting TREAT refills sound amazing on paper.
Long-lasting chew like a real bone.
Special dental ridges to help remove tartar.
Unique shape to encourage your dog to chew, lick, or gnaw.

BarkThink Reminder: With all chew products and treats, pets should be supervised as no product is completely indestructible. Pieces smaller than the mouth may present a choking hazard. When wet, treats may stain fabric and upholstery.
For the most part, it worked as advertised—until Ocho figured out how to pop it out of the toy. At that point, with the ability to chomp down from both set of teeth, he was able to quickly make short work of the "everlasting" treat. From start to finish, it probably took him about an hour to remove the Everlasting TREAT from the Bento Ball. Keep in mind, it is not particularly easy to insert or remove the treat either. I don't think he actually knows how to do it, but because of his size and force he's able to slowly wiggle the Everlasting Treat loose from the rim of the Bento Ball that exacerbates the process of removing the treat from the toy. On the flip side, the small "X" hole on the bottom side is a bit generous in size (so minimal room to modify the opening unless you want it even bigger); therefore, most of the kibbles and treats I had were dispersed within 5 minutes. For better utilization, I'd recommend using bigger treats or mixing it with other items to help throttle the dispersion rate as you would in a KONG. To learn more, check out this post on over 50 Ways to Fill your KONG.
Conclusion: Starmark Everlasting TREAT Bento Ball
With some considerations in mind, I'd recommend the Starmark Everlasting TREAT Bento Ball. Any toy with multiple functional features combined with quality construction warrants a recommendation. Unfortunately, for the interactive function to truly shine, the Everlasting TREAT refills are essential. Depending on how long it last or if your dog can pop it out, the refills may be an excellent bang for your buck or a troublesome expense to fully utilize the Bento Ball.
When the refill was properly seated in the toy, Ocho was only able to minimally wear it down. Even when he did pop the refill out, it took another 40 minutes or so for him to chomp it down. Therefore, I can see the Starmark Bento Ball and Everlasting treat refill combination being an outstanding value for dogs that can play with it the way it was intended. I'm not a huge fan of the ingredients in the Everlasting TREAT refills either (wheat gluten and chicken), but that's just a personal preference. If your dogs enjoy a good chew challenge, treat-dispensing toys, or are food-motivated; this would be a fantastic toy to try!