Ever been curious about what 100 years of breed "improvement" looks like? It is crazy to see the changes that can occur over the span of a hundred years.
Below is a short list of dog breeds in W.E. Mason's 1915 book, 'Breed of All Nations', compared to its modern appearance today. Some breeds were skipped because the older reference photographs lacked detail to make a proper comparison. Special thanks to Science of Dogs for their original work.
As a personal disclosure, I've owned both "purebreds" and mixed breeds. While there has been some differences on the surface such as some behavioral tendencies and physical appearances; they all were the same at the core: prey-driven, motivated, athletic, loving, loyal, and none had any intentionally bred defects. In reference to Asher's research (2009), like Science of Dogs, I would never purchase a dog whose characteristics exacted a health burden. In doing so, it only encourage people to continue breeding more of these intentionally unhealthy animals.
Bull Terrier
It is incredible to see the vast difference of what the Bull Terrier looked like a century ago compared to how it appears today. Besides the mutated skull and thicker abdomen, the breed has also became susceptible to other ailments such as compulsive tail-chasing and supernumerary teeth.


Basset Hound
Originally bred for hunting, the Basset Hound has gotten shorter as a result of changes to its rear leg structure. In addition, the Basset Hound breed now has unnecessary loose skin, excessively large ears, vertebra maladies, and droop eyes prone to ectropion and entropion.


Boxer
In the early days of bull-baiting, a shorter snout and upward-facing nose provided dogs with a means to secure a vice-like grip on its prey and continue to breath as they held on. Unfortunately, despite the bans on these blood sports, the Boxer breed has continued to develop a shorter face and (increased) upturned muzzle. Like all brachycephalic dogs, Boxers can have difficulty regulating its body temperature in very hot or cold weather. Boxers also has one of the highest cancer rates in the dog world.


English Bulldog
Of all the breeds, the English Bulldog has probably suffered the most due to the 'improvements' by dog fanciers and adherence to 'breed standards' held by dog organizations. English Bulldogs suffer from just about every disease possible. According to a 2004 survey by the Kennel Club, English Bulldogs die at a median age of 6.25 years (n=180). Due to their monstrous proportions, these dogs are effectively incapable of mating or birthing without medical assistance.

Dachshund
Dachshunds once had functional legs and necks that made sense for their purpose of flushing burrow-dwelling animals such as badgers. Today, their necks and backs has continued to extend further resulting in a forward-jutting chest. In addition, their legs has shortened leaving minimum clearance between the chest and ground. Consequently, Dachshunds has the highest risk for intervertebral disc disease which can result in paralysis. They are also prone to progressive retinal atrophy (PRA), achondroplastic related pathologies, and complications involving their legs.


German Shepherd Dog
Another dog that is commonly mentioned when discussing about 'ruined' breeds is the German Shepherd Dog (GSD). The German Shepherd Dog, as we know today, is a barrel-chested, ataxic, and angulated dog averaging 85 lbs (38kg). This is a far cry difference from the medium-sized (55 lb/25 kg) GSD described in Dogs of All Nations that could easily scale a 8.5 feet (2.5 m) wall.

Pug
Similar to the Boxer, the Pug is another example of a brachycephalic breed that has continued to have its face depressed into its skull—further magnifying the problems associating with that trait such as high blood pressure, breathing difficulty, tendency to overheat, skin fold dermatitis, heart complications, and dental problems. In addition, the desirable double-curl tail is actually a genetic defect that, in its severe forms, can result in paralysis.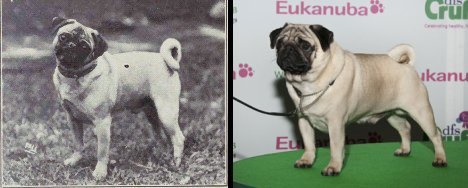 Saint Bernard
Once a noble working companion, the modern St. Bernard has been developed into an oversized and highly brachycephalic dog with abundant skin. Other prevalent diseases includes Stockard's paralysis, aphakia, entropion, ectropion, hemophilia, osteosarcoma, and fibrinogen deficiency.

Sure, you cannot expect any population or breed to be completely free of genetic diseases; however, show breeders have intentionally selected for characteristics which resulted in diseases. Conformation breeders claim they are selecting traits to improve the breed; yet, these traits are often the source of these complications. If "improvement" in appearance imposes a health burden, then it is not a breed improvement.
No dog breed has ever been improved by the capricious and arbitrary decision that a flatter/smaller/shorter/longer/bigger/curlier "whatever" is better. Condemning a dog to a lifetime of suffering for the sake of appearance is not an improvement; it is torture.
Further Reading
Historical Dog Breed Pictures.
Breed-Predispositions to Cancer in Pedigree Dogs – ISRN Veterinary Science
The Price of a Pedigree – Dog breed standards and breed-related illness – Animal Welfare Group (PDF)
A healthier future for pedigree dogs (2009) – Associate Parliamentary Group for Animal Welfare (PDF)
A healthier future for pedigree dogs – 2012 update – APGAW (PDF)
Pedigree dog breeding in the UK: a major welfare concern? – RSPCA (PDF)
References
Asher L, Diesel G, Summers JF, McGreevy PD, Collins LM. (2009). Inherited defects in pedigree dogs. Part 1: disorders related to breed standards. Vet J. 2009 Dec;182(3):402-11.